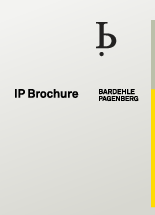 IP Brochure
Standard-essential patents can establish a dominant market position which may lead to special requirements for the enforcement on the part of the patent proprietor and may entail the possibility of a defense of compulsory license under antitrust law on the part of the alleged patent infringer. The European Court of Justice defined specific requirements in 2015.
German patent law generally enables patent proprietors to exclude any third party from using the technological teaching protected by their patent. However, when it comes to standard-essential patents, antitrust law may prevail over this principle in certain circumstances.
The present brochure intends to provide a brief overview of the legal particularities of enforcing standard-essential patents and/or of a possible defense against such enforcement.